It was on the 29
th
of September, when a text from our community preceptor told us that there would be a medical outreach in one of the Barangays in our assigned community. It would be a good experience and exposure for us medical students and only 1-2 representatives per group (as there are three groups assigned in our community) will be allowed to join. The group came to an agreement that, one of the two representatives must be someone who has never had any experience in doing medical outreach and that the other would be someone who has. Personally I have never had an experience in doing medical outreach/mission and the like therefore the group volunteered me.
A feeling of excitement and fear rush through me.
Participating in such an activity takes me to the reality that I am a medical student and that I am expected to act like one who has a general knowledge regarding the medical field. I was excited and at the same time scared as it was going to be my first time to take part in an event such as this. Moreover, I am still not fluent in the local language which is Bisaya.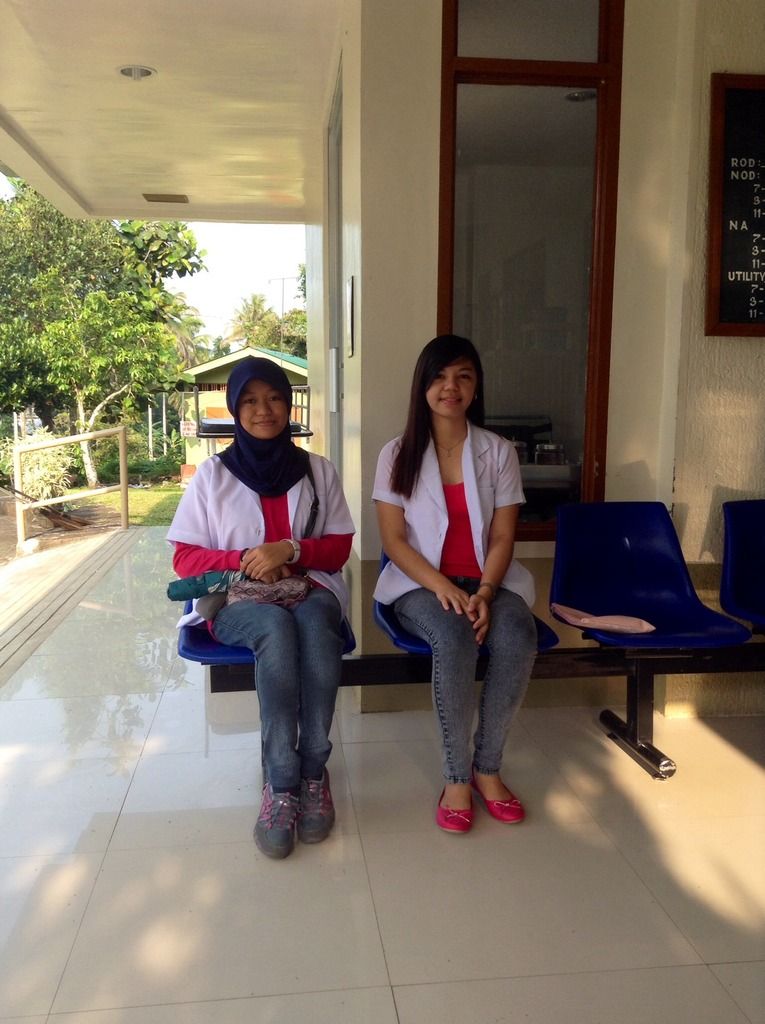 The next day, we woke up early and get ourselves ready before six o'clock in the morning. As we were advised that we could catch the pharmacist (which happens to be our neighbor) who works at the municipal hospital and has an automobile where we could ask a ride to the same destination due to it being our meeting place with our community preceptor and other representatives from the two other groups. Considering that we just moved in almost 4 days ago, we were still adjusting to the environment and the mode of transportation which is mostly by motorcycles, the pharmacist agreed to bring us.
Upon our arrival at the municipal hospital, there were already two representatives from one group; we then greeted our community preceptor. There were no any representative from the other group and so we were to wait for the chief of hospital who went somewhere and rent a car and hire a driver for the purpose of bringing us in the medical outreach site. After how many minutes he arrived and then we made some introductions to each other.




We then embark on our journey to a Barangay that is almost 20 km away from the municipal hospital on a military kind of truck which was just enough to accommodate 7 people.


It was a long, tiring and bumpy ride.
However the scenery that we could view from the window of our community made the ride a little lesser long and tiring ride.
These random thoughts then flashed into my mind:
·
After I graduate from medical school, I would be practicing medicine in a community like this one; where I could best enjoy the beauty of nature which calms my soul- reminding me of the very reason that I chose this medical school
·
It would be fulfilling that at our destination I would be of help to people, no matter how long and sometimes uncomfortable the ride might be
·
I would like to settle down in a rural community
At the elementary school of the chosen Barangay for the medical outreach, the medical services offered were:
1) tooth extraction
2) circumcision
3) consultation/check-up and
4) distribution of free medicines.
Our community preceptor assigned 3 of my colleagues to the consultation/check-up where they were assigned to take the blood pressure of the patients, while I was assigned at the dispensing of medicines.
Though it might seem easy that I would just have to distributed the medicines which the doctors have prescribed. The challenge was that to give instructions as to how to take the medications. Most do not understand English, Tagalog nor Chavacano, hence I was able to speak on the spot Bisaya in giving the patients instructions. At first I was hesitant to talk in Bisaya so I first listened as to how Maam/Pharmacist beside me would instruct the patients.
The program lasted half day and we were offered lunch by the organizers after which we went home.

Article by: Amina I. Solaiman